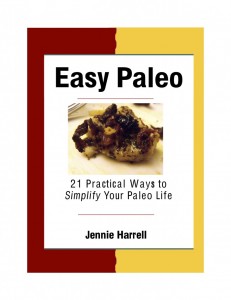 Easy Paleo: 21 Practical Ways to Simplify Your Paleo Life by Jennie Harrell is a nice introduction to changing your eating habits. While there are great Paleo specific tips, a lot of the book can be used regardless of the diet you are thinking about trying.
Using the details of her and her husband's personal journey through their dietary transformation, Jennie allows you to experience the highs and lows of making such a radical change. She shares their reasons for their decision and the 30 day plan to see if Paleo would work for them. This very personal look into their lives allowed me to relate the 21 ways to my own dietary transition. I recognized some of the same pitfalls, like having nothing in the house to eat and some of the same joy, such as feeling a whole lot better.
For $4.99, you really can't go wrong here. Several of the heavy hitters in the gluten free/paleo world (Chris Kresser, Robb Wolf and William Davis) have praised the book. Even if you don't think "Bacon is rad," the tips can be effortlessly adapted to whatever change you are contemplating, with the exception of the grass-fed beef tips!
If there is one thing that I would change about this book, it is tip #3, "Remove ALL Temptation From Your House," where it says (emphasis mine):
The easiest way to go about this is to decide on a date (tomorrow?), throw out all, and I mean all, the off-limits foods in the house (do not be stingy and worry about wasting food – it is junk that no one should be eating anyway!), and make sure you have other alternatives ready.
I can understand that a lot of us know that the stuff being thrown out is poison to us, but there are a lot of hungry people out there. I do not feel comfortable with the notion that the garbage is a better place than a food bank for this kind of thing.
I do agree that getting the bad things out of the house is great, but maybe in the next edition, the author could modify her stance to suggest donating the items that would be accepted by a food bank. Check out the AARP's Hungry in America site for more details on how you can use your transition to a better diet to help those less fortunate. While you are at it, please consider donating Gluten Free food.