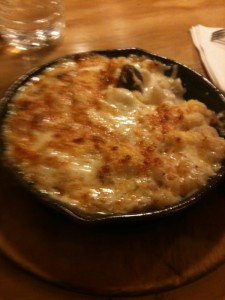 S'MAC (Sarita's Macaroni & Cheese) is an East Village restaurant that specializes in very tasty Macaroni and Cheese. It's pretty simple. If you like Macaroni and Cheese and are in New York City, it really becomes a requirement that you eat here.
I had heard about this place prior to my visit a couple of months ago, but didn't realize they had gluten free options. As always with a place that isn't dedicated GF, there is a chance of cross-contamination. I didn't get glutened here and would gladly go again.
Well, I would if I could fix my gut and eat dairy again.
I still miss cheese.
The picture is a cell phone shot of the "Alpine" (nosh sized — see prior post – I had just eaten a whole pizza two hours earlier!). Sorry about the partially eaten quality, I had started to dig in and remembered that I wanted a picture.This was made with the Brown Rice flour macaroni, gruyere cheese and bacon. I actually could not finish the whole thing, but I did make a valiant effort. I hope to be able to eat there again someday.
Other glowing GF blog reviews of S'MAC:
Gluten Free Mac and Cheese in NYC – A Gluten Free Guide
s'mac – Forgiving Martha
S'MAC – Another Gluten Free Blog