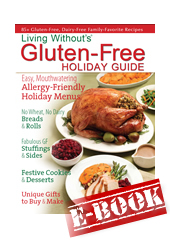 Living Without magazine recently released their 2011 Living Without Gluten Free Holiday Guide. I found mine at my local Barnes and Noble (in the New-age magazine section, not Food/Cooking) and you can also order the e-book from their site for $6.95.
Most of the recipes are Gluten Free and Dairy Free. There are even suggestions for egg substitutes, if you can't eat eggs. There is good advice on having a holiday meal that doesn't sacrifice too much of what you expect while still maintaining your diet.
We are still deciding what the menu will be for Thanksgiving and we are using this guide to help us make up our minds.
If you have this guide, please share your thoughts!